With a name taken from the God Manannan who cast the Island in a mystical cloud of the Isle of Man is probably a UK Editorial photography location you never knew existed. And no this isn't that Island, south of Southhampton ;). So where exactly is the Isle of Man?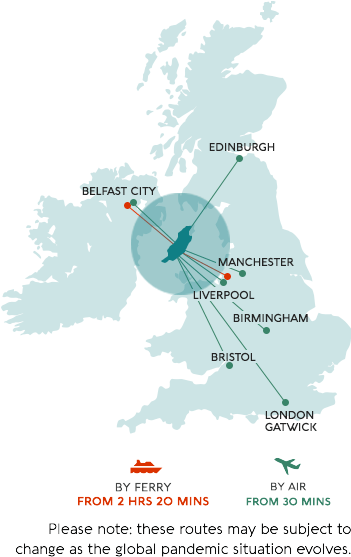 "Extraordinary is…the Isle of Man

Discover the Extraordinary Story of the Isle of Man – the only entire nation in the world to be recognised as a UNESCO Biosphere Reserve. Located in the heart of the Irish Sea, hop on a short flight or a hassle-free sail to arrive at an Island that is rich in extraordinary nature, with an ancient and compelling history and a uniquely vibrant culture."

Visit Isle of Man
In this blog article, I'd like to convince every creative outdoor brand to choose the Isle of Man for their next UK editorial photography campaign. Here is why I think that you should choose the Isle of Man;
Stunning Nature and Landscapes
From the dramatic coastline to lush green fields the Isle of Man has a great variety of locations within a short distance. If you are athletic minded then you could probably walk to most spots, but if you're not the public transport isn't bad. But you are probably best hiring a car to get to the best locations. Some of my favourite spots like Niarbyl don't receive regular transport.
The Isle of Man has an interesting past and some fantastic historical sites
Some of my favourite spots include the whitewashed thatched cottages at Cregneesh, and a number of Neolithic standing stones in spectacular spots like the top of South Barrule, Meayll Hill, or Maughold (fantastic for those who love the Celtic Outlander vibe). If you love Vikings then Peel is the place for you. The beautiful sandstone Viking Castle is a brilliant spot for an ethereal-style photoshoot. This location also has a marriage license if you fancy getting hitched in a really unique and wild location.
Does your audience have a wild, magical heart?
There is a certain magical feeling when I'm in and around the wild fells and rugged coastline of the Isle of Man. You are almost guaranteed a wild wind that just whips the hair and creates a breathtaking look.
Sunshine is never guaranteed 
But in what romantic novel does the sun shine all the time? For me, a moody sky and muted colours create a feeling of mystery. If you are lucky and the sun does make an appearance the rays can give you a beautiful look.
Jewellery business Element Isle for me really gets exactly what the Isle of Man is all about…
"A connection to a simpler time, each piece of Element Isle jewellery tells the story of the Island we call home, celebrating the unique beauty and tapestry of this incredible corner of the world. Born from the island of fairies and rich folklore, a place where every imaginable vista exists all at once. Jewellery by Element Isle is a love letter from the Isle of Man."

Element Isle
My parents brought me up on Manx, Viking, and Celtic fairy tales. Element Isle brings this feeling alive in her jewellery items. The flowers that fairies in Glens play around with. Her sea-themed items feel like something a mermaid from one of the tales would wear. All of these images have helped me when curating Element Isles's most recent images of her beautiful one of the kind Ben Varrey necklace, donated to the Hospice to generate funds for a fantastic cause. Model and owner of Emma Blackburn wellness and fitness totally embraced this theme. Together we created some stunning images that really showcase the jewelry and also the Isle of Man as a fantastic location for brands and businesses. 
If you love any of the Element Isle jewellery pieces, then please do visit Claire's website. There are 100s of designs perfectly suited to anyone who loves nature.
If you are a brand or business who would love to have their product shot on the Isle of Man then please do get in touch.